Weeknote 41
Heathrow podding, Furniture, Dining-out explorations
Heathrow podding
After a busy week at work, finalising things before I move teams, I ventured over to Heathrow on Good Friday to meet X after her five weeks away in Chile. Before making the long trek back to her North London home on the Piccy line, we sampled the lesser-known theme park-like attraction of Heathrow's Terminal 5 car park, otherwise known as the Heathrow Pods. The joyous 4-minute roundtrip is entirely free for anyone outbound from the terminal but £7 if arriving inbound by car… quiet, don't tell anyone!
Furniture
With X back, we set about looking for some more contemporary furniture to suite my new home this long weekend. We made quite a flurry of purchases including a new sofa bed, wardrobe, and drawers. It's going to be a busy week ahead before I head off to Germany next weekend receiving and assembling everything! Making space for it all, I swiftly advertised my IKEA sofa bed for free on Freecycle and Marketplace which received numerous replies with minutes and thankfully someone who could collect the same day. Await next week when I've news on my Ekedalen bar table modifications…
Dining-out explorations
The long weekend also included my first visit with a friend to a local Venezuelan restaurant full of atmosphere and a warm, welcoming owner at Liqui Liqui. For my starter and mains, I'd the delicious papas locas with cheese and spicy guacamole, followed by arepas pabellon with shredded beef.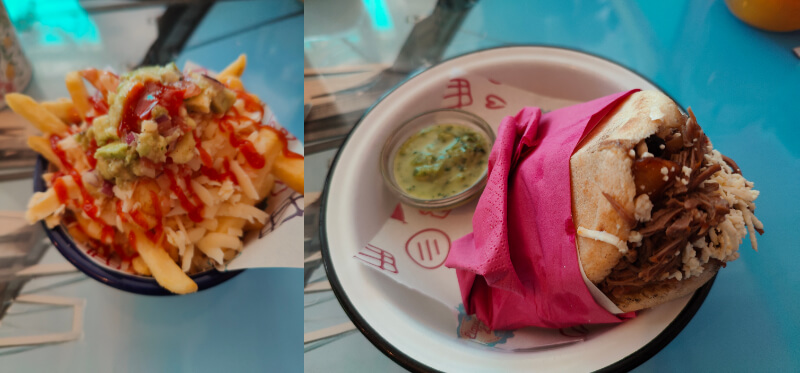 One of my nearby friends/neighbours at my new home is also well versed in making great cocktails and this weekend I was delighted to try their new creation named Coco. Appropriate cocktail glassware yet to be acquired!